"The tax code is a disaster and so complex that no American can understand it. The time for fundamental reform is now."
— Don Cohen, former IRS auditor
Why don't we have a tax system that is fair to everyone?
It is clear. It's time for a change — it's time for the FairTax. The current income tax system is broken. It's complicated, easy to evade, and unfairly burdens the lower and middle classes. And, attempts to fix it have only made it worse.
America needs the FairTax -- NOW!
The FairTax is Fair - It replaces the federal income tax system, which taxes what we earn, with a tax on what we spend. The FairTax is a consumption tax: the more you buy, the more you pay in taxes; the less you buy, the less you pay in taxes. So everyone pays fairly when they choose to spend, including illegal immigrants, foreign visitors (about 50,000 each year), and those who evade paying taxes under the income tax system. The FairTax:

Makes sure everyone pays their fair share
Allows you to keep your entire check: payroll, Social Security, and pension
Un-taxes the poor with a rebate on the necessities of life
Protects Social Security and Medicare
Stimulates investment, economic growth and job creation
The FairTax is Simple:
NO income tax filings
NO loopholes or exceptions
NO hidden taxes
The FairTax is Incredible:
95% of all Americans will pay less tax!
The FairTax can happen soon. All it takes is a strong commitment by WE THE PEOPLE. Take action now. Don't wait. Join our team and help restore the American Dream for everyone, including your children and granchildren.

2013-2014 FAIRTAX
PERSONAL CALCULATOR
What will Federal sales taxes cost your
family under the FairTax plan?

Calculate your NET effective annual FairTax (%) rate and dollar cost, after taking all your tax free spending into consideration. This online interactive version is totally anonymous.
FAIRTAX VIDEO
EDUCATION SPOT
Pass these audio/video links around to everyone you can. Education on the FairTax Act (H.R. 25/S. 155) is the key to passage!

Six minute video summary of FairTax
Have you ever heard someone
say "I want the Flat Tax!"?
Check out our tax comparison document and arm yourself with a response that shows how inferior the Flat Income Tax is compared to "The FairTax".
AN ECONOMIC COMPARISON OF THE FAIRTAX (H.R. 25)
AND THE FLAT INCOME TAX (H.R. 1040) PLANS
"Never doubt that a small group of committed people can change the world. Indeed, it is the only thing that ever has."
— Margaret Mead, anthropologist
Home | Research | FAQs | In the News | Legislators | Links
Facts | Resources | Get Involved! | Activities | Song | Contact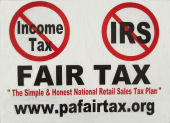 PA FAIRTAX YARD SIGNS HERE NOW!


Western PA:

724-941-9443

e-mail

to get signs to display. Help is needed with:


Sign display


Distribution
» get the details



FAIRTAX VOLUNTEERS
Get Involved NOW!
Help us plan future neighborhood activities and presentations for local organizations. For information, contact the FiarTax State Director in Pennsylvania.


VOLUNTEERS NEEDED
PA FairTax needs volunteers to help with ongoing projects - Most help can be home based:


Free community based presentations


Newspaper flyer insert project


Phone calls for support


National letters to the editor writing campaign needs you. For more information, contact the FairTax State Director in Pennsylvania.



TAKE ACTION NOW!
Pass the FairTax. Abolish the IRS. WE THE PEOPLE can make it happen. DONATE now!
» get the details